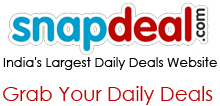 PROBLEMS Vs OPPORTUNITIES (The Entrepreneur Diaries)

Padh likh ke Tata Birla banna hai kya? What drives the Indian economy and the entrepreneurial culture? Are they extremely knowledge-based or pure passion? It is time to post mortem a few examples on entrepreneurial ventures across the country and understand their survival instincts, their goof ups and what made them a legend. Let us explore the business spaces in India:
Stick around for the others in the series. Click at the links provided at the end of the article. The first goes...

1. THE BIRTH AND GROWTH OF SNAP DEAL: Kunal Bahl, the face behind those awesome deals that flood your mails every morning; he is a true success story. Its parent company being JasperIndia, Snapdeal is almost feverish. "You keep buying those deals. This has indeed made a huge difference to what I shell out every month on my entertainment and recreation. It all is just a click away!" says Satanik Chaudhuri, an employer of The Times of India. SnapDeal has gone on to become a huge brand where the deals have a good validity period and are customized for the Indian way of spending. As of now, it is networked in six cities and has a 15-city plan coming up soon.
INTERESTING FACT: They opted for limited strategic marketing to begin with. Then onwards, it spreaded from one click to the other like an explosion! Bahl says, "We can't be selling a product or service 24/7 (it is just too tiring) – products need to sell themselves if they are to become good sized businesses quickly; we can just build the right foundations and help them on their way."
Why a success?
• Frictionless easy-to-approach process.
• Negligible investment. So, even if you lose your initial Rs 100(booking amount, it won't harm you much!
• The actual hosts are the merchants! SnapDeal is just a means of making the buyer and the seller meet and share revenues! In a way, SnapDeal is a platform offering businesses for many vendors!