How many times have you unpacked your luggage in a new city / country and thought this "Darn, I forgot to pack this!" and you just go stomping around because you are in a new city, lost and not properly packed for it. Well, here is what we suggest; plan before hand and pack right.
Before you travel you need to make sure you carry along stuff that you will actually need and accessories that will help you make the journey not only easier but enjoyable too. Though the essentials will vary over the places which you are visiting; there are some things which are just needed for every trip.
THE RIGHT SHOES
Though your 4 inchers look very pretty on your feet, they will be uncomfortable when you are out site-seeing. A good pair of sneakers or sport shoes works fine in any weather and any terrain. Get the right shoe, the right size and make sure they are comfortable. Try them out for at least some days before they pack for the trip; sore feet are the last thing you need on a vacation.
THE MAP- KNOW YOUR WAY AROUND
It is a surprise how many people forget this basic thing on their vacation. In situations where you don't know the local language, getting around might be a challenge. Guides work well but if you are planning on exploring places by yourself, then a local detailed map might become very handy.
---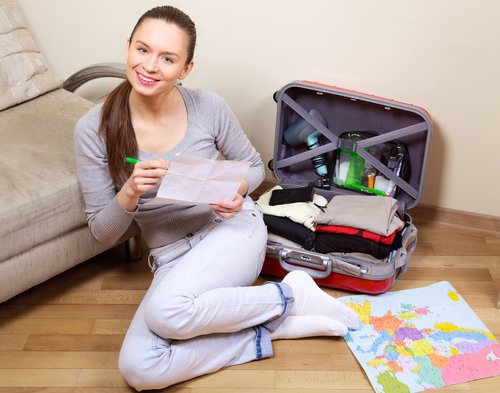 ---
HOT OR COLD? ARE YOU READY FOR IT?
Find out what the climate is before you freeze to your bones or burn your soul in the heat! Pack a cardigan if weather changes are something of a norm in the city. Make sure you carry your sunscreen and sunglasses if heat is at its peak. Packing the right clothes will a long way in making sure that travelling around is comfortable.
THE GEEK ON VACATION
Sorry to the geeks out there, I really like you for what you are doing to the world; but for the rest, stop being a geek even when you are on vacation. A smartphone is quite worthy and does everything you might need. But having to carry your iPads, your laptops, your DVD players, your music players, the Kindles – limit yourself to what you might really need and really is worth putting on the extra luggage for.
THE FIRST AID BOX
Your health comes first. Keeping the emergency numbers and the hospital locations close is a smart choice, but not having a mini first aid kit might just be a big blunder. Make sure you have a couple of the basic medical things you need – band aids, pills for a headache, muscle relaxant for sprains, pulls or anything minor. But make sure you know the numbers for the local hospital.
Chugging your luggage around will break your back. Travel light, keep it to a minimum. You will shop and that will add on to your luggage. Make sure you just have enough space not only for the extra shopping but also to stay within the luggage rules at the airports. Do your travel research beforehand so that you are prepared for almost all the surprises the vacation will throw onto you.