Music moves me. It moves the entire humankind. Apparently the animals and the Boov too! So what is it about music that makes it the most amazing thing in this world? It makes you feel every single emotion, there is, in just a few seconds; makes you cry, sing, dance and even have so much fun every so often. Yeah, it does and we will prove it today. Sit tight, coz this is going to be the most ridiculously amusing minutes of your time today. Presenting, the crazy, the mind-boggling, the most fun songs Hindi Cinema ever produced. Click on the images to watch the songs, right here!
---
1. Meri Marzi (The Gambler)
---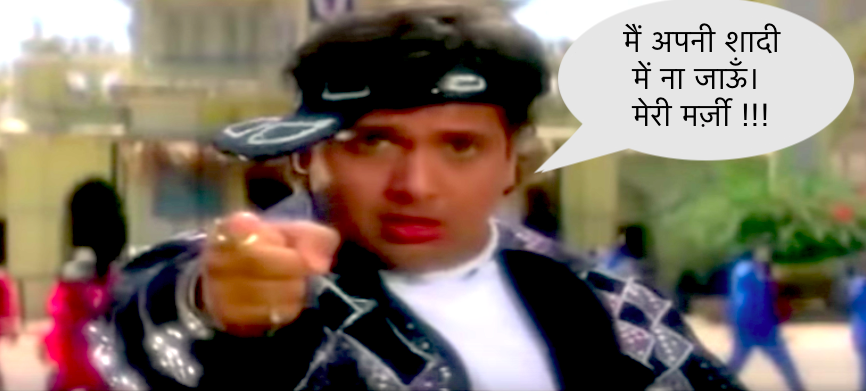 This can be called one of the first modern raps of the Hindi cinema. Lyrics by Vinay Dave and sung by the famous rapper of the time, Devang Patel, makes this song a deadly humor combo. If you haven't heard of Devang Patel, google him. He was crazy!
---
2. Ek Chatur Naar (Padosan)
---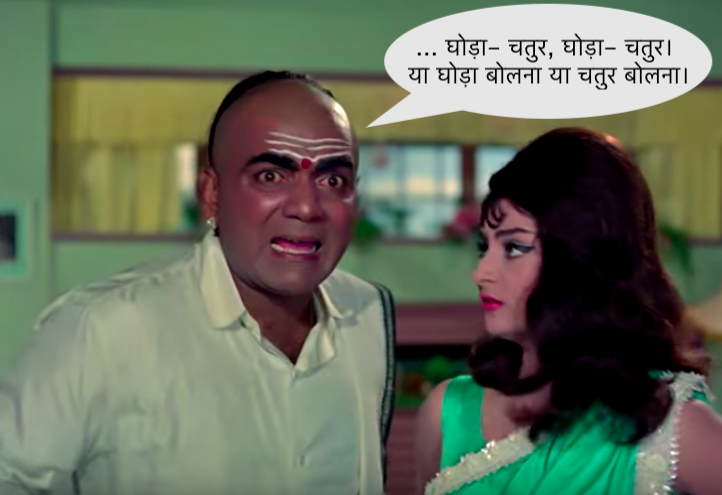 ---
This singing contest between the music teacher (Mehmood) of the heroine (Saira Banu) and the lover boy (Sunil Dutt) is hilarious. Why you ask? It's not just the hysterical lyrics but the fact that one of the singers is lip-synching for the real singer (Kishore Kumar) that is also performing in the song and happens to be a friend of the hero. Mehmood and Manna De being the other two singers. This is genius comdey.
---
3. Saare Niyam Tod Do (Khubsoorat)
---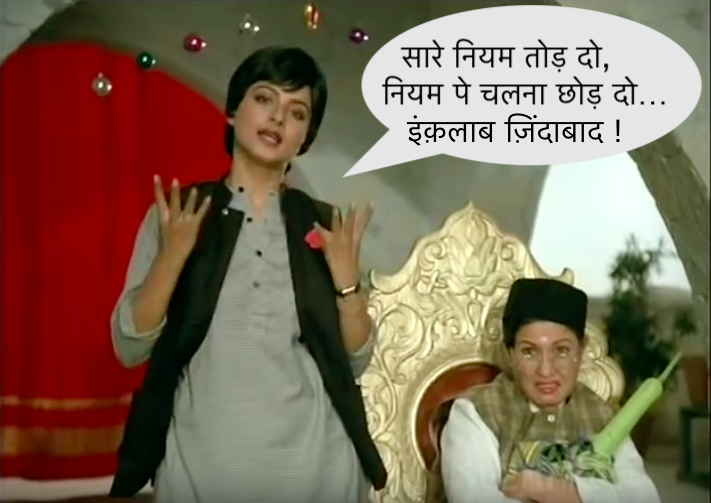 This fun number from the 1980 Khubsoorat is an absolute gem from none other than Gulzar. Partially sung and performed by Rekha and so many other great actors, this song must be watched along with the whole film directed by the master Hrishikesh Mukherjee.
---
4. Qayda-Qayda (Khubsoorat)
---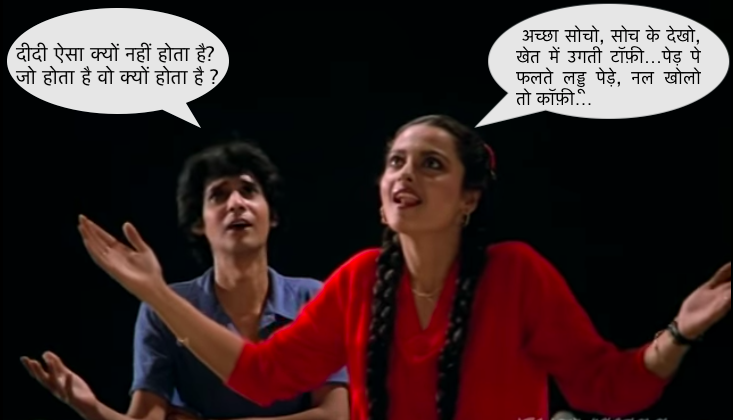 Another gem from Khubsoorat challenging the status quo of nature is an absolute treat to watch. Sung by Rekha herself, this song goes with the character rebel she is trying to portray in the movie. Soch ke to dekho!
---
5. Padosan Apni Murgi Ko Rakhna Samhal (Jaadugar)
---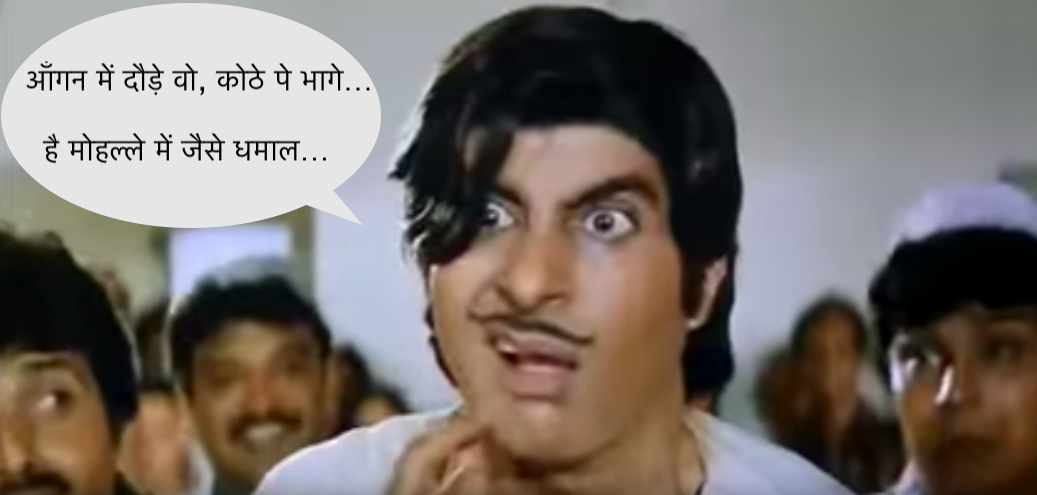 Crazy lyrics and Amitabh dancing like a mad man trying to flirt with Jayaprada's character in the movie Jaadugar, Padosan apni murgi ko rakhna samhaal, mera murga hua hai deewana is more than just a comedy filler sung by Amitabh's voice in cinema, Sudhesh Bhosle. The movie wasn't such a huge hit but the song, well, I used it in my performance for my brother's sangeet. And that was definitely a huge hit !
---
6. Kahan Raja Bhoj Kahan Gangu Teli (Dulhe Raja)
---

---
There is no way this duo (Govinda-Kadar Khan) can go wrong. This hilarious Qawaali contest between the hero and heroine's father is out and out entertainment. And did you know Sonu Nigam is Kadar Khan's voice in the song? Hear it now and see the voice modulation this man is capable of.
---
7. Mere Angne Mein (Lawaaris)
---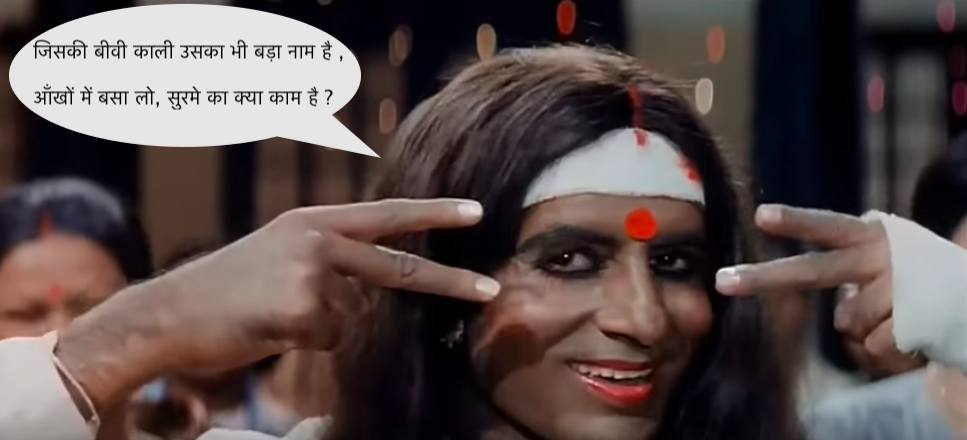 This song, and so many others, is the reason Amitabh Bachchan is the performer that he is. Cross-dressing wasn't a thing back in those days. Every body seems to be doing it now. It must have taken some will and skill for our "Angry Young Man" to pull that off. Look at this man's expressions here. Its just crazy, this song.
---
8. Ke Pag Ghungroo bandh (Namak Halaal)
---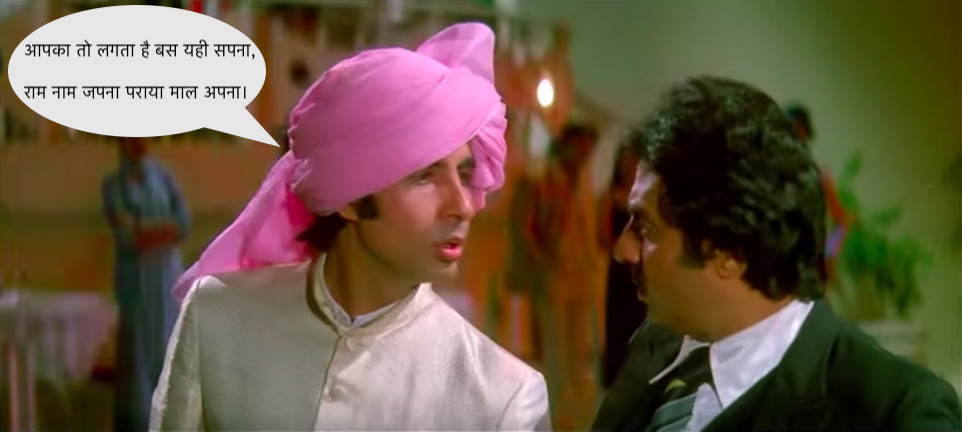 ---
Another precious one from Amitabh, sung by the hilarious Kishore Kumar, Ke pag ghungroo... is one of the most popular comic songs of all time. Amitabh's dancing skills are at quite a display here.
---
9. Jhuka Ke Sar ko Poochho (Satte Pe Satta)
---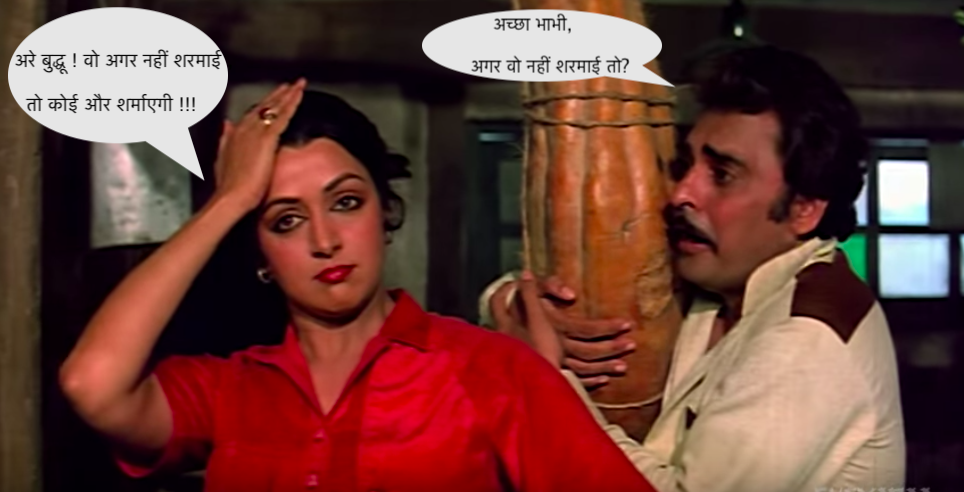 Funny, I don't know but Hema Malini making an attempt at playing "Love-Guru" to these six savage brother-in-laws is just too cute to not include in this list. This song, Pyaar hume kis mod pe le aya and the entire movie Satte pe Satta has so much going on around. You just can't miss it.
---
10. Ye Raat aur Ye doori (Andaz Apna Apna)
---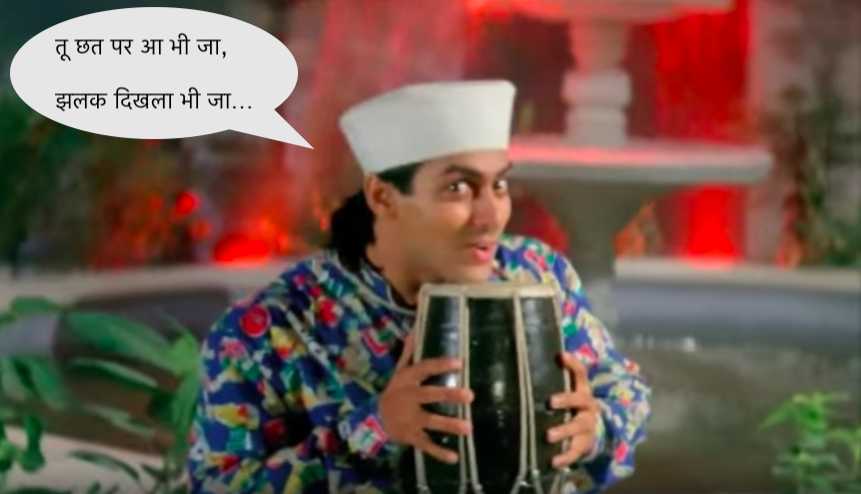 Tell me if you don't agree that this is the most hilarious song and film, Hindi cinema ever produced? The fact that Karishma's character is so willing to dance with and still hiding herself from Salman's character makes this Majrooh Sultanpuri lyrical so much more meaningful than just a funny film song. And none other than Saroj Khan's choreography with all the characters in the song, especially Aamir Khan, makes this number the most hysterical of them all. Long Live, Andaz Apna Apna! I still can't believe it flopped back then.
---
11. Stop That (The Gambler)
---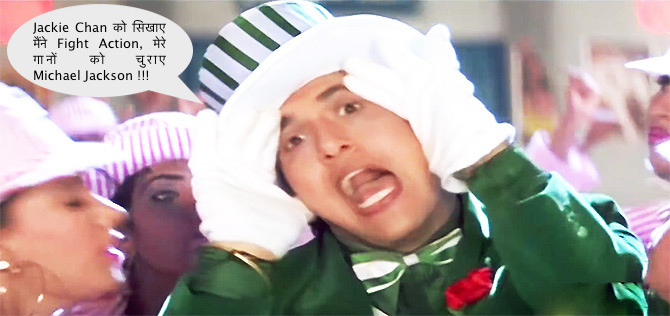 More crazy from Govinda, Devang Patel, and the 1995 The Gambler, Stop That! , I have always felt, is the funnier of the two songs (#MaChoice). Vinay Dave does not dissappoint with this one either. Listen to the things this guy thinks he is capable of. :D
---
12. Bhor Ai (Bawarchi)
---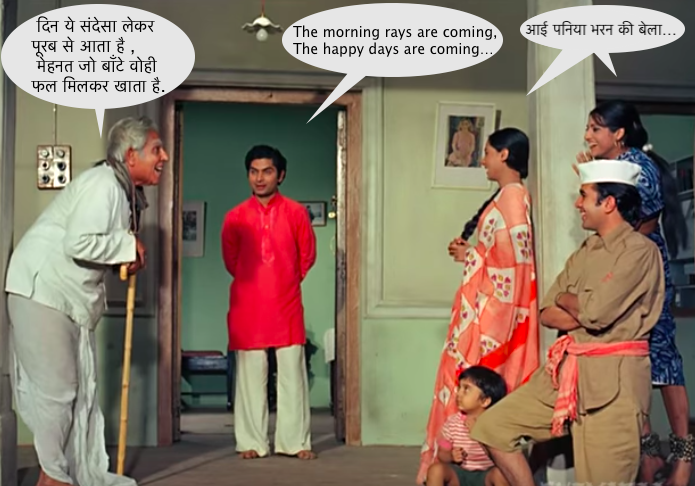 ---
Not exactly funny but a whole lot of fun, this song from Bawarchi, sung by Manna De, Nirmala Devi, Lakshmi Shankar, Harindranath Chattopadhyay and the hilarious Kishore Kumar yawdling and voicing for the English part, done by Asrani , is one 70s fusion number you cannot miss. Did you know Nirmala Devi was actor Govinda's mother? No wonder his singing is effortless.
---
13. Excuse Me, Kya Re? (Style)
---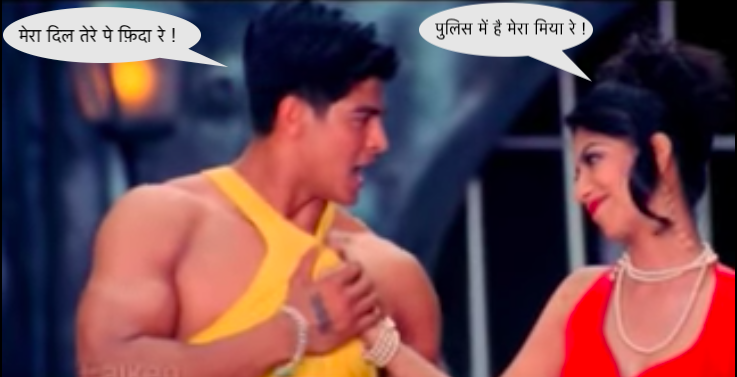 Sharman Joshi's first hit song from his first movie, Excuse me was a rage when it came. And why not? Have you heard the lyrics?
---
14. Ande Ka Funda (Jodi No. 1)
---

Govinda and Sanjay duo is just hysterical and they have proved it time and again. Although this song has nothing to do with the story, and it pops out of no where (just like any other Govinda and David Dhawan's songs), it was the best thing about it. Ande ka funda has sure got some crazy perks you would want to discover about this protein rich food. Ye nahin pyaare koi mamuli banda!
---
15. Urvasi-Urvasi (Humse Hai Muqabla)
---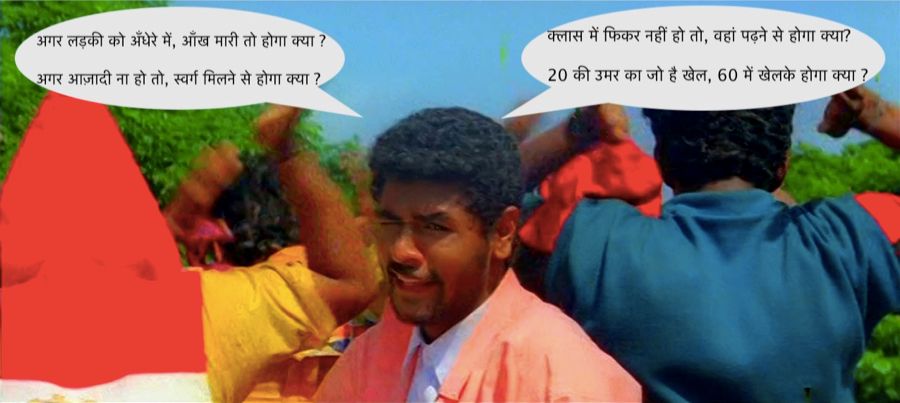 Dubbed from the original Tamil film Kadhalan, all the songs including this one were dubbed for the Hindi version called Humse Hai Muqabla. Urvasi-Urvasi, unlike other south Indian dubbed songs we have heard over the years, does not dissappoint with its lyrics and music. A.R. Rehman was so subtle that you hardly notice the wrong lip-sync throughout the song. #TakeitEasyPolicy ;) Also check out Patti Rap from the movie. It has to be the maddest song you've ever heard.
---
16. The Parody (Mr. India)
---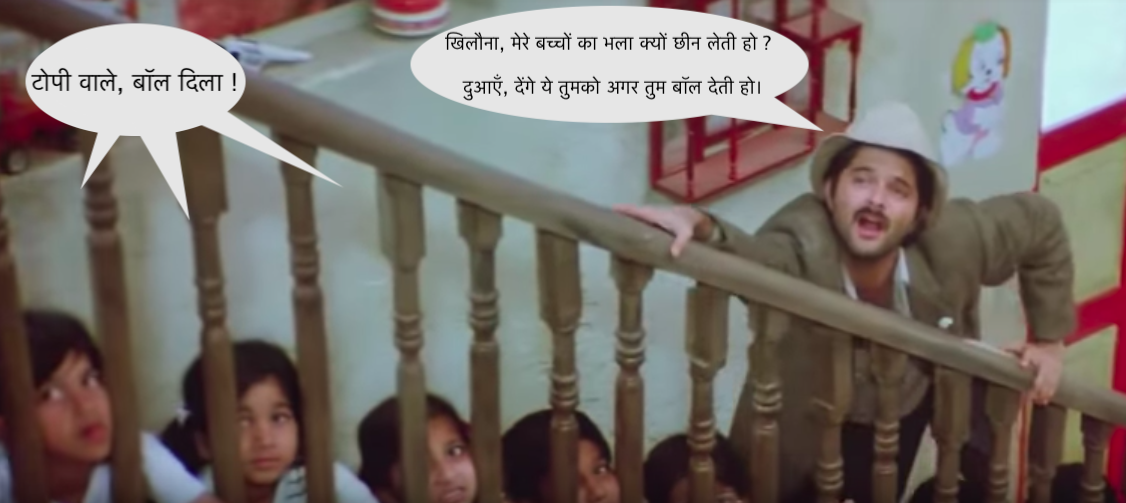 ---
We cried for her when she died, for a reason. Sridevi was magnificient, she was effortlessly hilarious . Look at how much fun these parody songs become when Anil Kapoor, Sridevi, Satish Kaushik and the cutest industry kids (including llittle Aftab Shivdasani and Ahmed Khan) come together for a who-gets-the-ball-contest medley. Mera naam hai calendar, main to chala kitchen ke andar....
---
17. Jabse Hui Hai Shaadi (Thanedaar)
---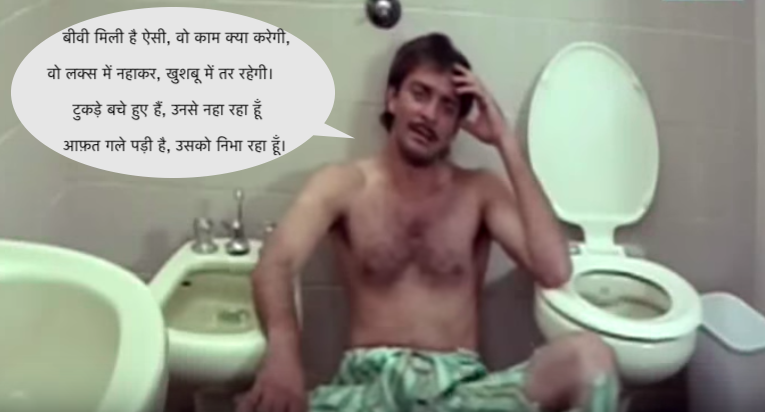 "Sanju's" hilarious side back in the days when he only played serious, action roles, this song is actually a dream sequence where he imagines Madhuri to be this spoilt wife. You'd have to watch the song to feel it. Click the image above and do it now!
---
18. Aake Seedhi Lagi dil pe (Half Ticket)
---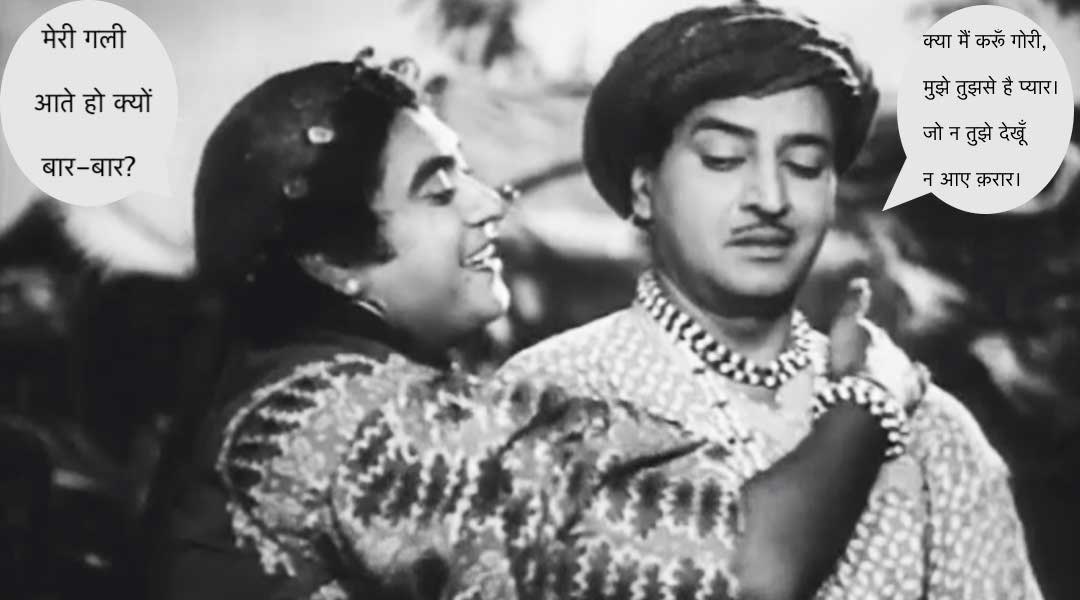 We have seen Kishore Kumar doing comedy , yes, but being cross-dressed and dancing with lover Pran is something you do not want to miss.
---
19. Pyaar ki Pungi Bajake (Agent Vinod)
---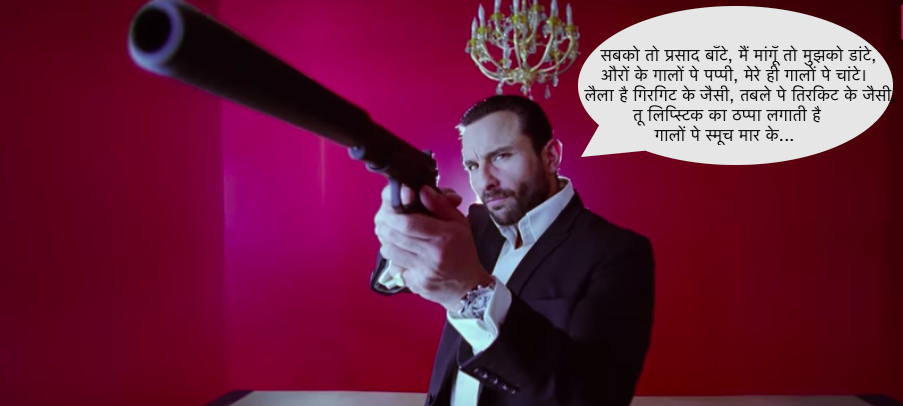 ---
Agent Vinod was a serious spy movie and Saif's character in it more of that but this song right here, it is just the opposite! The mad lyrics and Saif's crazy part are just the perfect mix for us fun lovers.
---
20. Daddy Cool (Chahat)
---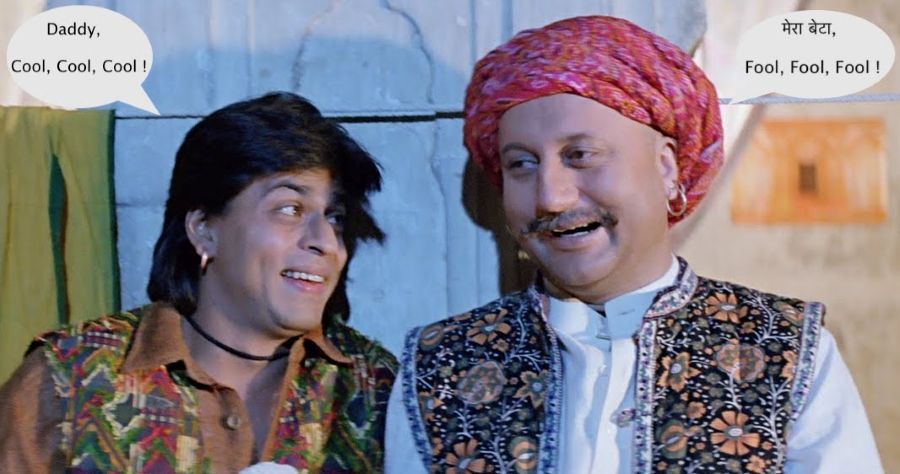 ---
The movie may not have been but young Shahrukh with "daddy" Anupam Kher in this 90s number from Chahat were a sure hit. Do not miss the mimickry of old Bollywood stars in the song by the versatile Sudhesh Bhosle.
We hope you had just as much fun reading-n-watching as we had working on these hilarious musical gems. Weren't they crazy? Stick around for the next one and tell us your most favorite funny song from Bollywood.