India is a potpourri of travel destinations. Big or small, remote or commercial, hot or cold- it has it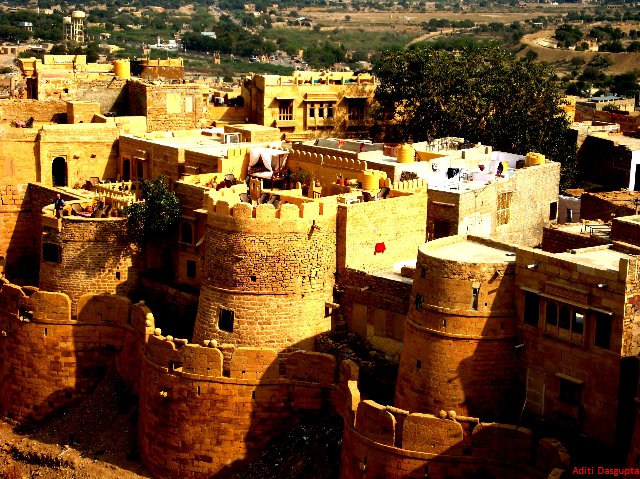 all. In continuation with majestic Udaipur, Jodhpur almost becomes a necessary mention to soothe those itchy traveler's feet. A panoramic overview of the city gives a Greece-like feel. The subtle blues and the whites tell a lot about the people living there. Humble food, tasty people (oops! tasty food and humble people) and some great museums such as Sonnar Kella, Meherangarh Fort, Jodhpur Fort and several Jain temples that dot the city sparingly, jokes apart, Jodhpur is a must must visit for a traveler.
Photographs always tell us a different story from an angle that the naked eye cannot always travel into. Rockying presents to you a library of photographs for your eyes only! Undertake our exclusive photographic journey and know more about the city, civilization, class, taste, culture, people and their art!
The scorching heat of the city can leave you helpless but the evenings look promising. Luxury hotels such as Rang Banka, Marugarh and Umaid Bhawan Palace set the mood of the evening with delicacies such as laal maas, safed maas and jungli maas along with some Rajasthani folk music.
Jodhpur will never treat you like a tourist. A true place for a traveler, it is the perfect destination for mindless musings as the sleepy by lanes in the afternoons mysteriously captures the spirit of the city. One can say, it is a regular city but with a difference. This is how you can get to know the city better:
The fort outlines the city and gives a very 16th century feel till date. Wear your cottons and carry your umbrella. Local autos ply in the city from practically all places but we suggest that it is good to travel on foot as well.

The forts are a must visit as Lonely Planet also rates the Jodhpur Fort as one of the must-visit monuments; you sure would not want to miss it.

The local jewelers hand craft some of the best silver accessories and charge the customer with low-making charge as well.

Jodhpur is every photographer's delight. So do not forget to carry your camera.

Ride on a camel's back. You might just find a double-humped camel as well. So hitch a ride, the Jodhpur way!

The Marwar Festival should be on your list. So plan your travel in the month of October. It showcases one of the best cultural performances from the local artists, excellent food at low prices and camel race, horse riding and polo attract thousands of viewers across the city.

You can shop for puppets that are as cheap as Rs 100 a pair and adorn your houses back in the city.

Lastly, remember you need at least 7 days to visit this city. A hurried trip can only leave you wanting for more!

Find out more information about Jodhpur on Lonely Planet.

Did you know? This city does not follow any traffic lights!