4. SAVING THE SILENT ONES FOR DECADES; FRIENDICOES: An absolute non-profit organization, Friendicoes started caring for grief-stricken stray animals and abandoned pets 31 years earlier. Caring selflessly and providing home for dogs, it began with a small land space of 17 sq ft sans any electricity or water. Today they have proudly expanded into a space that is triple its size and with the same motive: giving home to the homeless and trying to find them new homes. So what is interesting about this entrepreneurial venture triggered by Nina Anand, Gautam Barat and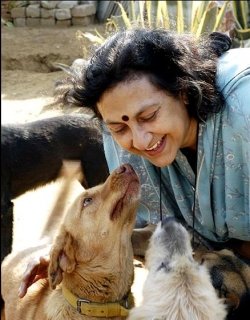 Geeta Sheshamani? In such a case, a market survey is not quite the criteria. A heightened sense of self-awareness gives rise to such ventures that give them not one but thousands of reasons to smile seeing the dogs get rehabilitated. An entrepreneur has to be self-aware apart from following blind passion. A belief in dreams is what makes the two blends into a wonderful possibility.

INTERESTING FACT:
• Friendicoes has been able to grow successfully because dumping and abandoning of dogs happen even to the best of the breeds in India.

WHY A SUCCESS?
• Most people in India have been apathetic towards keeping pets, especially when they grow old. Statistics show that the rate of abandonment increases as the dogs grow old. Friendicoes have dealt with cases where the pets were abandoned as a part of some astrological advice. This is where a non-profit organization saw a scope that involved a more humane angle towards the voiceless.